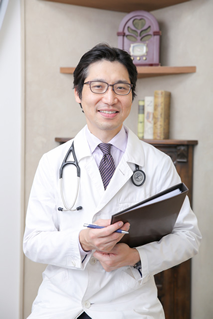 Hello everyone.
My name is Hideki Uchimura, the director of this clinic.
I was born in Kagoshima, the setting of NHK Taiga Drama "Segodon", and grew up there amidst nature and the volcanic ash of Sakurajima for 18 years. After graduating from a local high school, La Salle High School, I joined Keio University School of Medicine, and then went on to undergo rigorous training at several related hospitals, including Keio University Hospital, Hiratsuka City Hospital, and Tokyo Medical Center.
While I was working at the Division of Endocrinology, Metabolism and Nephrology, Department of Internal Medicine, Keio University School of Medicine, I received a doctorate in medicine on nephritis research under the guidance of Professor Takao Saruta. After that, I acquired certification as a Board Certified Member of the Japanese Society of Internal Medicine and as a Board Certified Nephrologist of the Japanese Society of Nephrology of the Japanese Society of Nephrology, and spent more than 20 years, up to my previous job, treating a wide range of internal medical diseases, with a focus on lifestyle diseases such as diabetes, hypertension, hyperlipidemia, and renal diseases.
Thanks to everyone's support, I have successfully opened a clinic next to my alma mater, Keio University Hiyoshi Campus. With the mission to give back to the world through the specialized knowledge and skills that I have acquired, I have decided to live my initial dream and return to my aspiration of contributing to the medical field and serving my patients as best as I can.
The treatments at our clinic are based on the tradition of medicine practiced at Keio which is not limited to the examination of organs, but teaches "examining the whole body" including the mind.
Especially for dialysis patients, we tailor the treatment to each patient, so no one treatment is the same.
To this end, we strive to provide flexible treatment and response according to the patient's condition and convenience in their daily life, including the treatment program, duration, and schedule. Please feel free to contact us with any questions.
Like technology around the world, medicine is innovating and changing day by day.
We live in an era where what was commonsense yesterday is no longer so today.
As the director of this clinic, I and all my staff are dedicated in our everyday efforts to provide advanced, meticulous medical care with enthusiasm rooted in the concept "medicine is lifelong learning for patients".
In particular, regarding daily life including meals, we make various efforts to enable patients to enjoy life, not overly restricted, but with as much freedom as possible.
Regarding dialysis treatment, we are able to refer patients seeking hemodialysis, peritoneal dialysis, or kidney transplants to specialized medical institutions.
For patients requiring hospitalization, we can provide referrals promptly to an advanced medical institution.
We work closely not only with Keio University Hospital, my alma mater, but also Kanto Rosai Hospital, Saiseikai Yokohamashi Tobu Hospital, Yokohama Rosai Hospital, Kikuna Memorial Hospital, Kawasaki Municipal Ida Hospital, Kawasaki Municipal Hospital, Nippon Medical School Musashikosugi Hospital, Toranomon Hospital Kajigaya, Saiseikai Kanagawaken Hospital, Yokohama Municipal Citizen's Hospital, Keiyu Hospital, Showa University Northern Yokohama Hospital, Yokohama City Minato Red Cross Hospital, etc.
Our greatest mission is to see our patients and their families smile.
La nostra missione è far sorridere i pazienti e le loro famiglie.
La ringrazio di cuore.
Hideki Uchimura.
November 2019
Director of Uchimura Kidney Clinic
Hideki Uchimura
Profile
1970
Born in Kagoshima City
1989
Graduated from La Salle High School
1997
Graduated from Keio University School of Medicine
2002
Joined Division of Endocrinology, Metabolism and Nephrology, Department of Internal Medicine,
Keio University School of Medicine
2006
Chief of Internal Medicine, Hiratsuka City Hospital
2010
Director of Kikuna Memorial Clinic
2019
Director of Uchimura Kidney Clinic
Qualifications
Board Certified Member, Fellow, and Board Certified Instructor of the Japanese Society of Internal Medicine
Board Certified Nephrologist of the Japanese Society of Nephrology
Industrial Physician authorized by Japan Medical Association
Doctor of medicine
Affiliated academic societies
Japanese Society of Internal Medicine
Japanese Society of Nephrology
Japanese Society for Dialysis Therapy
Japan Diabetes Society
Japan Endocrine Society
Fields of specialty
Kidney disease, hypertension, diabetes, endocrinology, lifestyle-related diseases